COZYROC Cloud Agent is a Windows service that is installed on each SSIS execution host and lets the COZYROC Cloud manage it. The installer can be downloaded from the web app when you sign in to your account. You can install an Agent on as many execution hosts as needed, but at least one is required before you are able to upload and execute packages.
Installation
Generate an Access key and download installer
Navigate to the Agents page. You can get to it via the Executions Agents link in the sidebar. If you haven't deployed any Agents yet, there will be a link to it on your Dashboard.
Click GENERATE KEY to create an Agent access key. Give it a meaningful name and confirm. After that you can copy the key from here when the installer asks for it. Access keys can be reused for several Agents.
Click the GET AGENT button to download the installer.

Install the Agent
Start the installer and follow the steps to accept the License agreement and select the installation folder.
On the Windows Service Configuration step specify the following:

Username: Username that will be used to run the Windows service. The installer will automatically create a local user with the required permissions.
Password: Password for the service user.
Port: A free port for the Agent service. It doesn't need to be open to the public.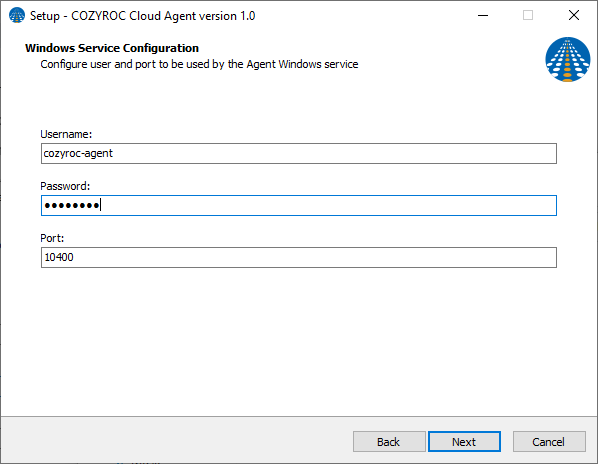 On the Agent Cloud Settings step, specify the following:

Access Key: Copy and paste the access key generated earlier.
Agent Name: A descriptive name to let you recognize the Agent in the Web application.
Maximum parallel workers: The number of executions that are allowed to run simultaneously on the Agent host. That number depends on your resources and needs. Default is 30.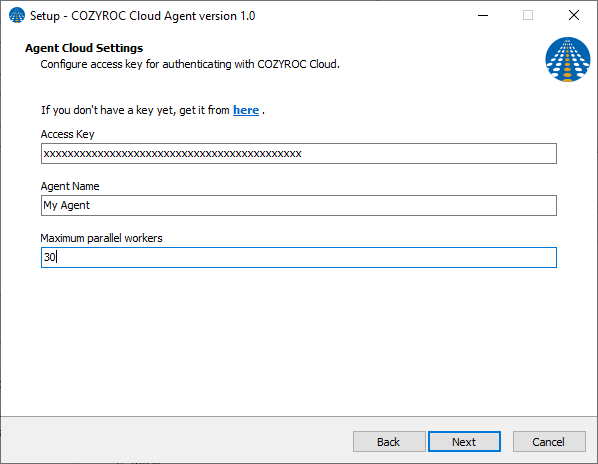 On the Select Components page, select the item(s) matching the Microsoft SQL Server version installed on your execution host.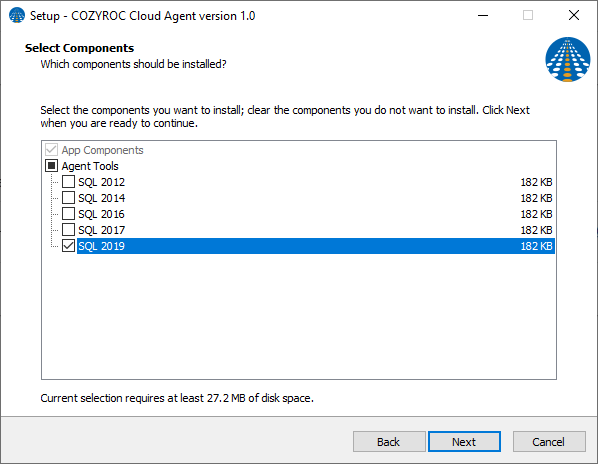 Complete the installation by following the installer steps.
Verify Agent installation
Wait a couple of minutes and refresh the Agents page in the web app. Your Agent should appear as ONLINE. Now you can start uploading packages.

Configuration changes and updates
The process of both changing the Agent configuration and applying updates is the same.
Download the Agent installer.
Recommended: Choose a time frame without executions. You can stop the COZYROC Cloud Agent Windows service manually to ensure no executions will be accepted during the update.
Start the installer and follow the steps. Change configuration values, if needed.
The installer will automatically start the Agent service at the end.